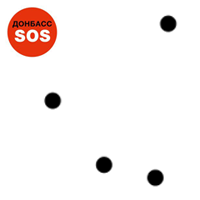 During Donbass SOS representatives visits it will be told about the events in Ukraine and non-governmental activities. Forum theatre method will be used. We have already started preparations and repetitions in order to present the information this way.
The inventor of a forum theatre method was Augusto Boal – an outstanding Brazilian director, writer and public figure. He created the Theater of the Oppressed (TO) in order to study civil consciousness, culture and oppression problems.
Boal's group used to cooperate with several human rights organizations. He believed that art can influence a life of an individual, a family and society in general. Boal's goal was to fight discrimination of any kind. He wanted to make people creators of their own lives.
The forum-theater method is based on an interaction between so-called Joker and a group of non-professional actors and actresses. Together they prepare a short performance using different techniques. According to the forum theatre method there has to be an aggressor, a victim and a few neutral characters.
Participants of the forum theatre suggest different plots themselves. Those might be situations they find themselves i
n everyday life, injustice that affected them or a problem they don't know how to resolve.
Spectators hold very important place in forum theatre. Not only they observe the action happening on a scene but they also participate. Actors and spectators are interchangeable. In order to better understand the forum theater technique its structure has to be explained.
At the beginning, one or two scenes including a problem situation are performed. After that the situation is displayed a few more times. It's done so the spectators could say stop at any time. The scene stops and actors "freeze". After that the spectator who stopped the action (feeling that he knows how to solve the problem) takes one of the actors place and tries to change the situation. In such way spectators influence the situation and its development.